What fans Googled during the 2023 Singapore Grand Prix
Discovering fan curiosity with Google Trends data: A closer look at the most popular search queries during the 2023 Singapore Formula 1 Grand Prix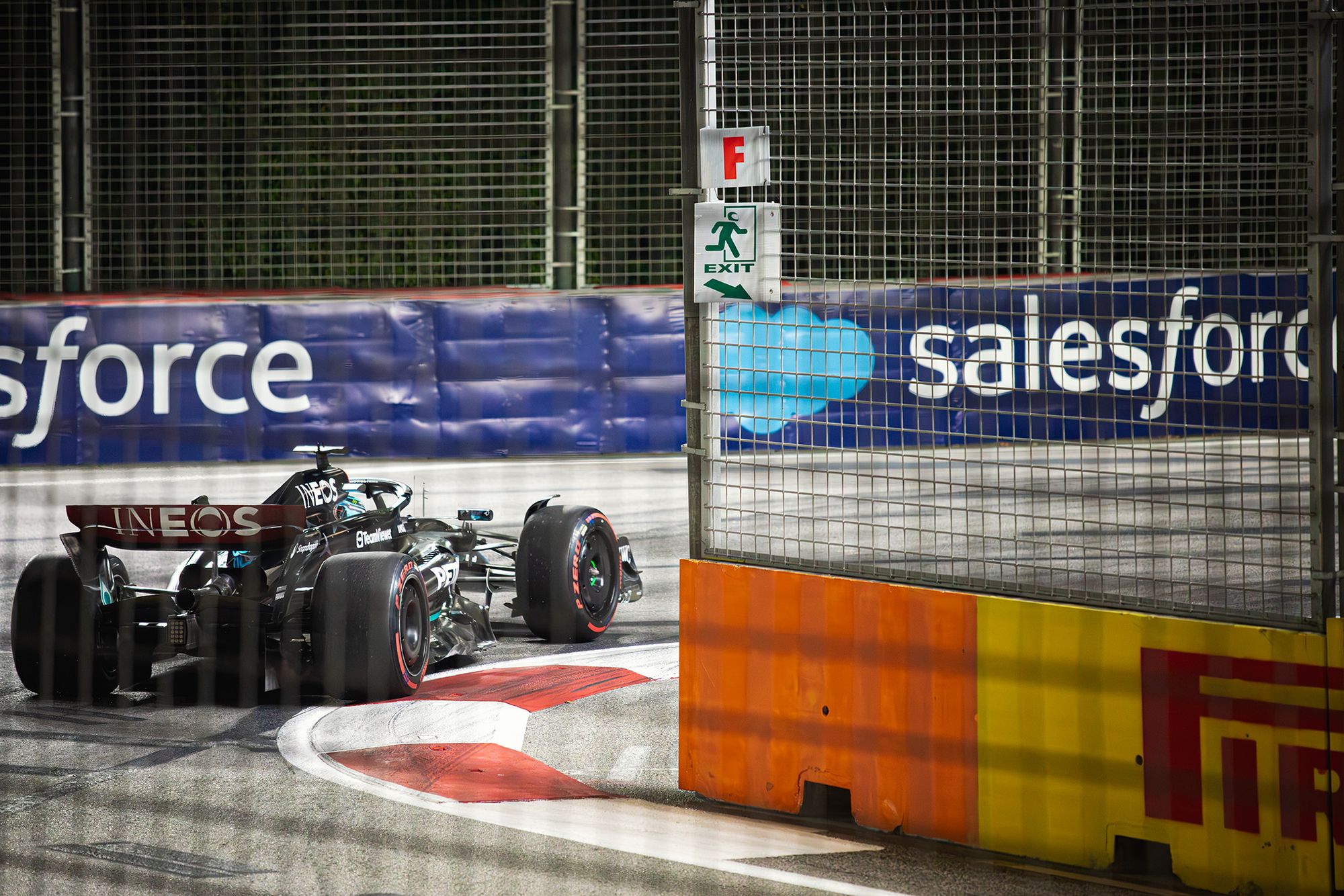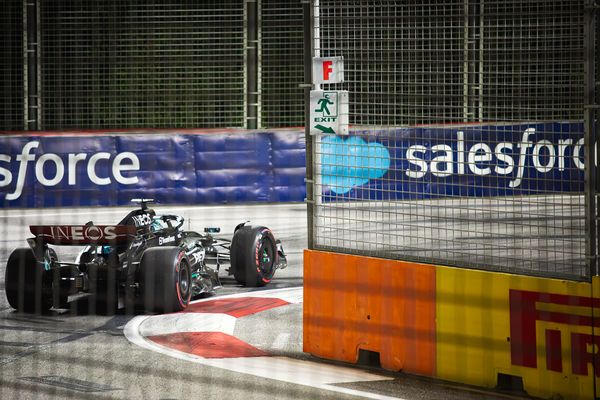 The dazzling streets of Singapore's Downtown transformed once again into the thrilling Marina Bay Street Circuit to host one of the most exhilarating races in the F1 calendar—the Singapore Grand Prix.
This year's Night Race will undoubtedly mark the 2023 season. Following a heated qualifying Saturday where Red Bull's Racing Max Verstappen failed to make it into Q3, Ferrari's Carlos Sainz seized his second-ever victory on Singapore's asphalt, shattering Red Bull's impressive 15-race winning streak and marking the season's first non-Red Bull victory. Joining Sainz on the podium was his former teammate, Lando Norris of McLaren, and Mercedes' Lewis Hamilton, whose 3rd place came unexpectedly in the last lap of the race following his teammate George Russell's accident.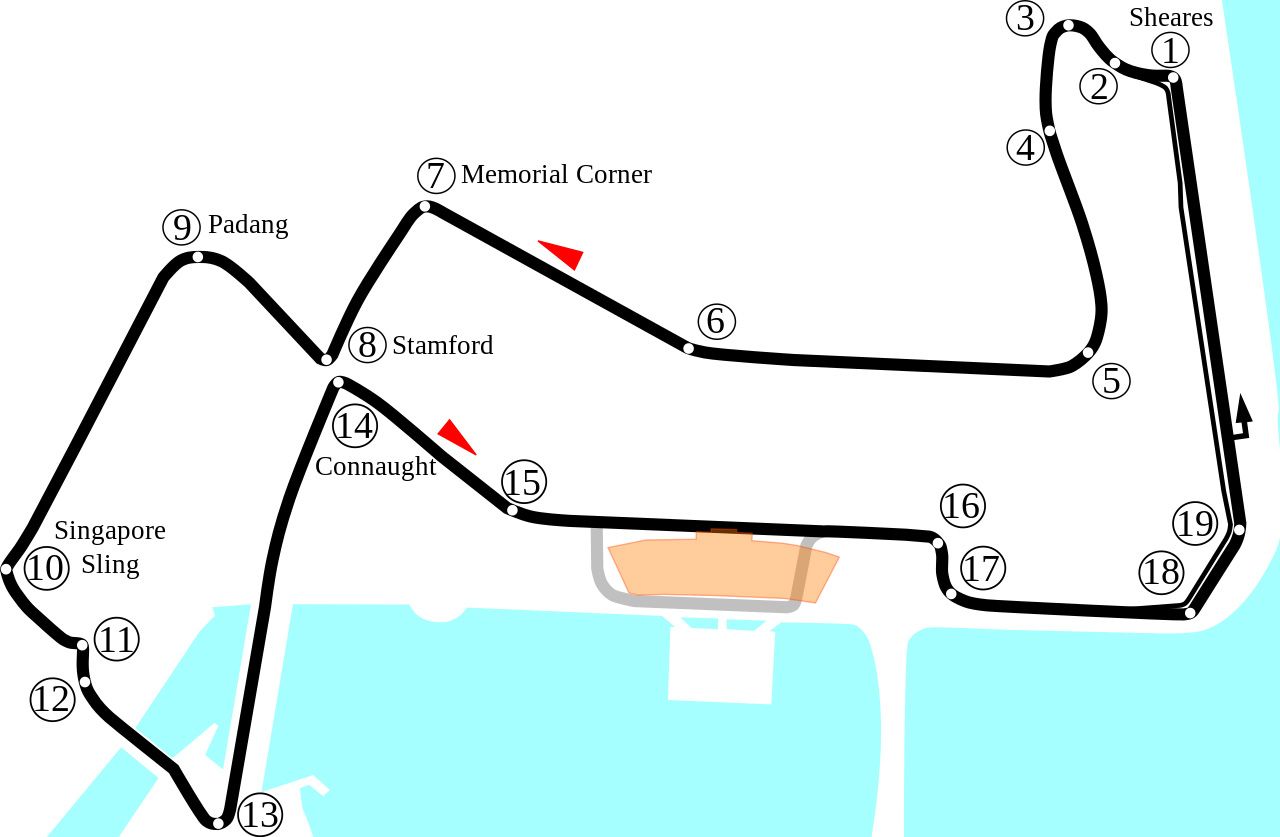 In the spirit of maintaining the tradition I initiated at the season's dawn in Bahrain, I delved into Google Trends post-race to explore the most popular Formula 1-related search topics during the event. This time, the experience was uniquely immersive, for I was sitting among the passionate fans right in the grandstands.
At 14:25 UTC (22:25 local Singapore time) on Sunday, September 17, I began my customary routine of inputting "formula 1" into Google Trends to discover the world's most popular queries related to Formula 1. This 60-minute interval covers the race's last 21 minutes leading to Sainz's victory, and the ensuing 39 minutes. During this time, Google's global interest metric for "formula 1" reached its zenith at 14:52 UTC, just eight minutes after Sainz crossed the finish line.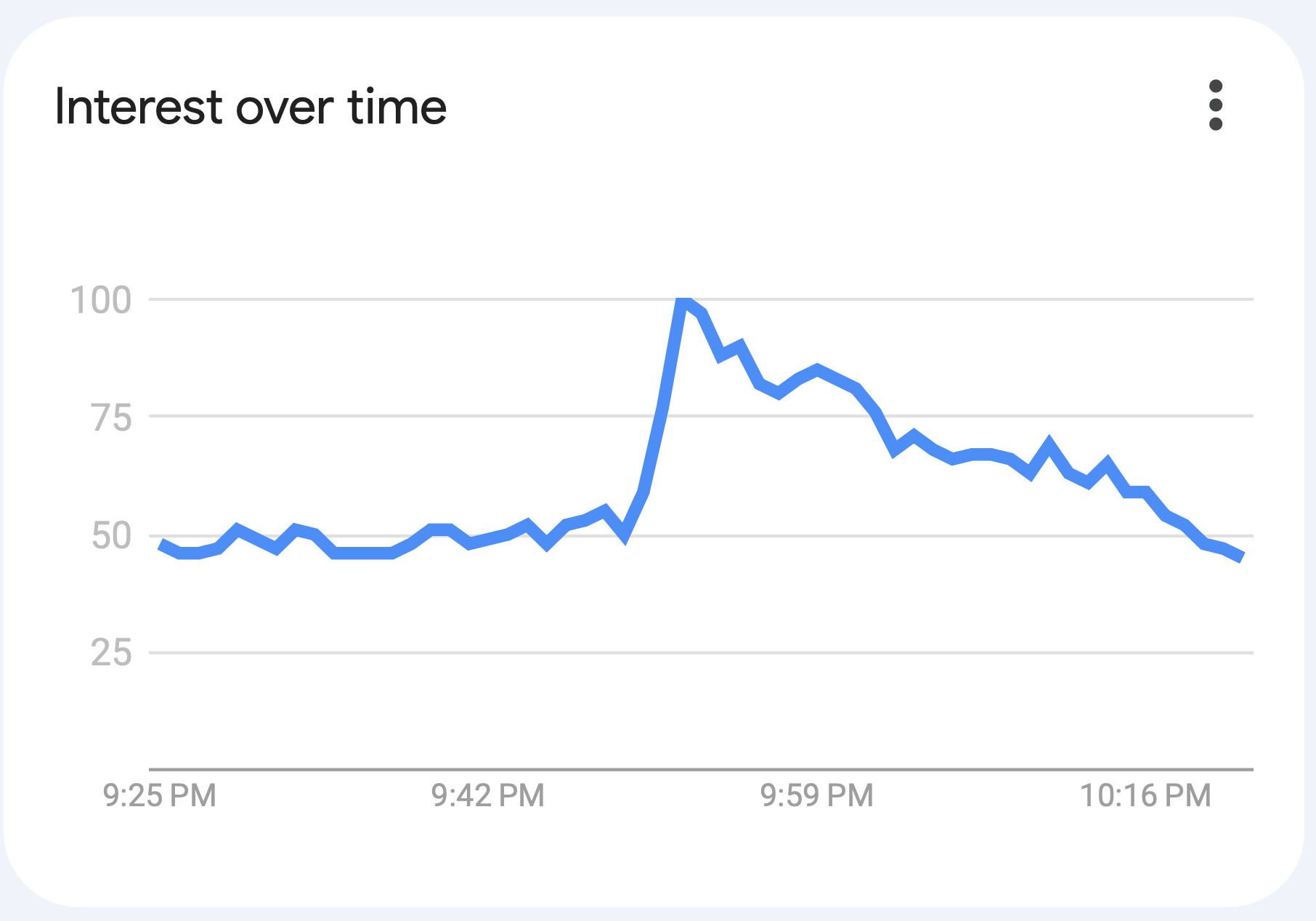 Within this 60-minute timeframe, a trio of the leading queries relate to the cherished "Driver of the Day" award, a fan-driven poll that celebrates the driver the fans deem outperformed the rest. Adding to this list was the race's winner, Carlos Sainz, whose victory likely propelled fans to seek out more information about him. Rounding off this list is the query "chi ha vinto la formula 1 oggi," Italian for "who won formula 1 today."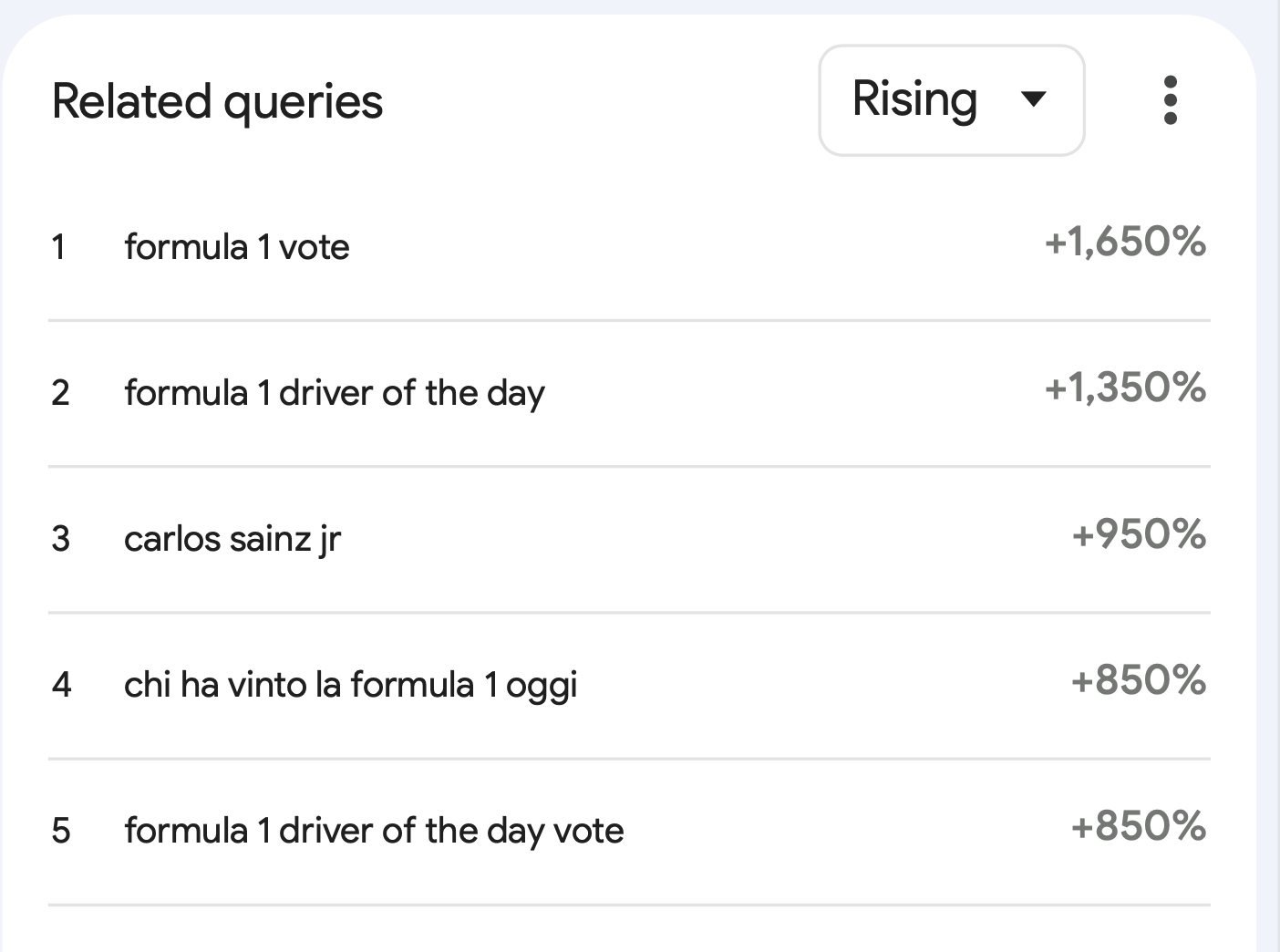 As for the top countries where the searches came from, Grand Prix hosts Italy, Mexico, and Spain, the home country of Carlos Sainz led the list, while the host nation, Singapore, is among the top five.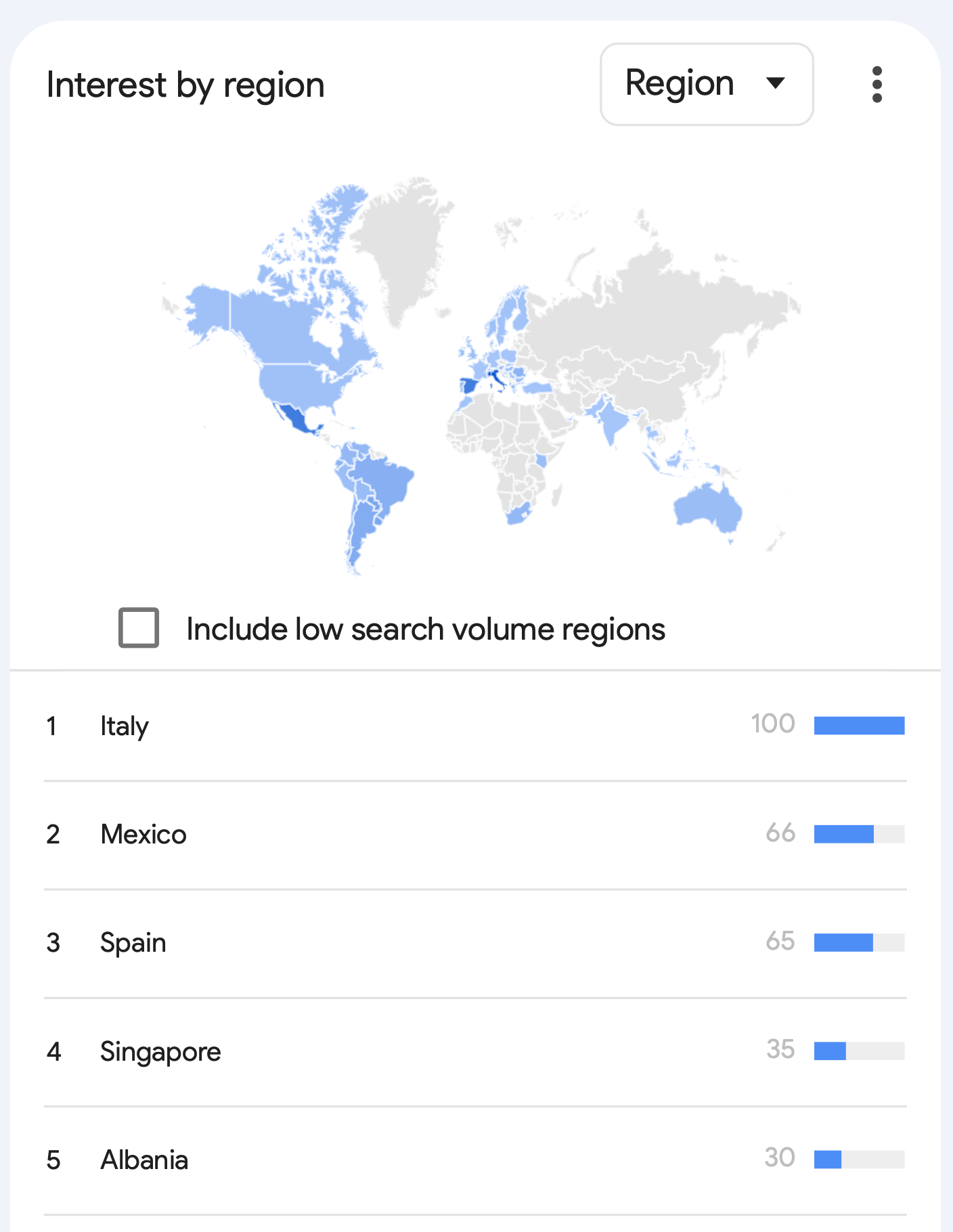 I've been looking at these Google Trends since the season's first race. Doing so offers curious insights directly from fans worldwide and is a fun way to handle the post-race blues. This weekend's trending searches featured the coveted "Driver of the Day" award and the night's hero,Carlos Sainz. A significant number of these queries originated from Italy, Spain, and Mexico.