Exploring what fans Googled during the 2023 Saudi Arabian Formula 1 Grand Prix
Discover the top F1 search queries during the Jeddah Grand Prix with our Google Trends analysis.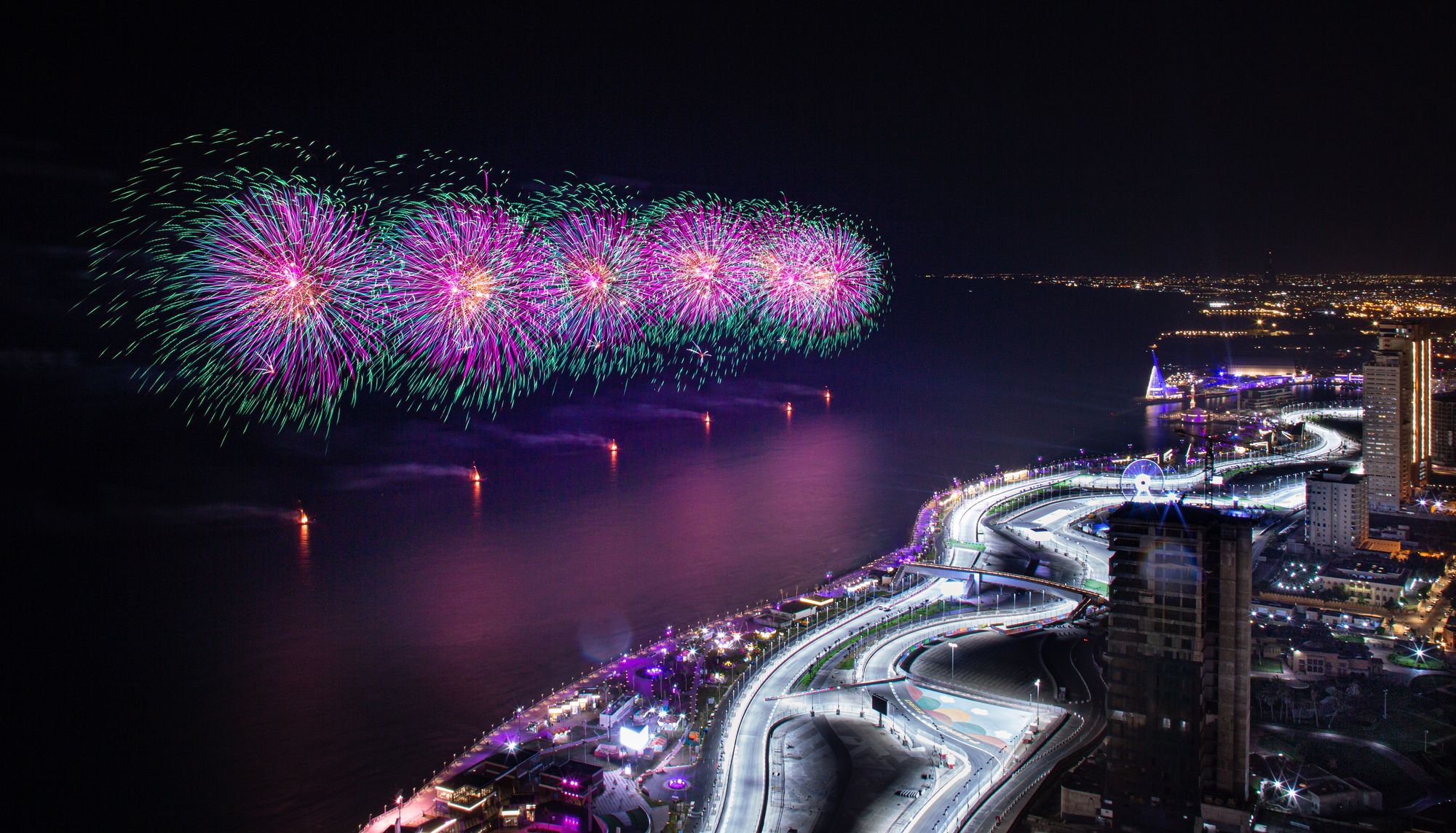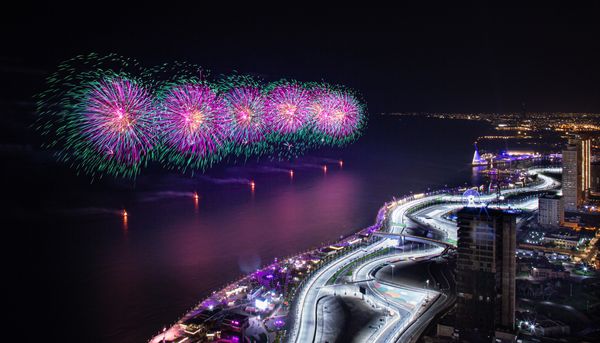 The second race of the Formula 1 season concluded at the stunning Jeddah Corniche Circuit in Saudi Arabia, where Red Bull Racing's Sergio Pérez claimed victory in a dashing high-speed spectacle. With the event wrapped up and the dust beginning to settle, I turned to Google Trends—a tool that analyzes the popularity of search terms and related queries— to investigate the most popular search topics related to Formula 1 people were searching for during the race and where these searches originated from.
At 19:06 UTC on Sunday, March 19, 2023, I searched for "formula 1" on Google Trends to look for the most popular worldwide queries from the past four hours. This time window covers the race, which started at 17:00 UTC, the two hours leading up to it, and 45 minutes after Pérez saw the checkered flag. Here's what I found.
Google Trends reveals that the interest peaked at 18:27 UTC, six minutes after Pérez ended his race at 18:21 UTC (Figure 1).

During these four hours, the top and third queries (Figure 2) came from, what I can guess, were people who wanted to vote for the Driver of the Day, an award voted for by fans and won by Red Bull's driver Max Verstappen who finished in 2nd place after starting 15th. The second query, which is in Spanish, asks what DRS (Drag Reduction System) is—I also saw this query in the last race's recap I did, which you can find at https://juand.es/f1-bahrain-google-trends. Two drivers made it to the top-five queries. These are Sergio Pérez and Ferrari's driver Carlos Sainz, who finished in sixth place.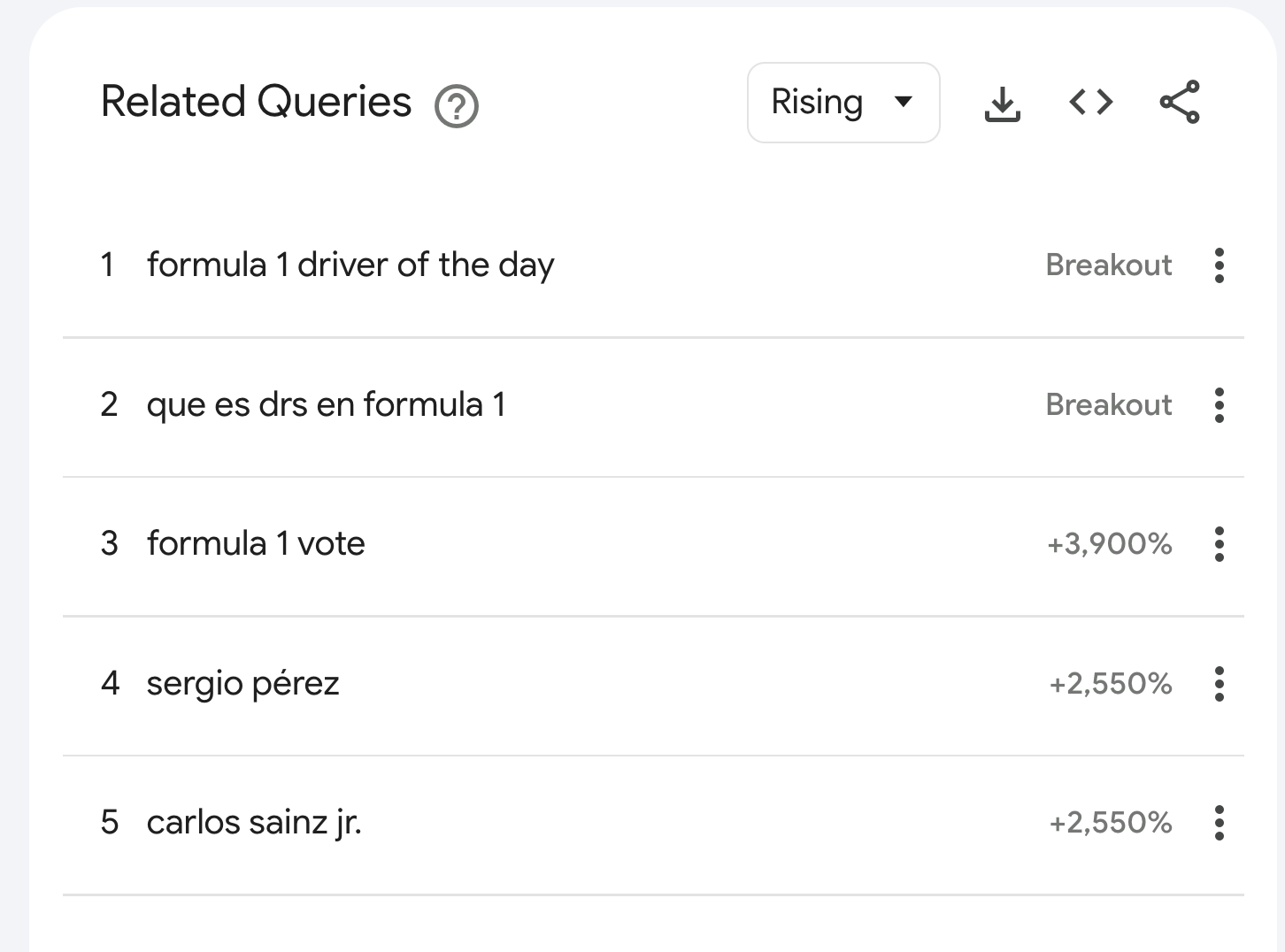 Carlos Sainz's home country of Spain showed the most interest in the search query (Figure 3). From this data, it's impossible to assume why it is first. Still, I'll go ahead and guess it's in part due to Spaniard driver Fernando Alonso from Aston Martin, who finished third. As I observed and deduced last week, Italy's and Mexico's interests could be attributed to the Italian team Ferrari and Mexican driver Sergio Pérez. As for Uruguay and Argentina, I don't have a strong assumption regarding what led to the searches.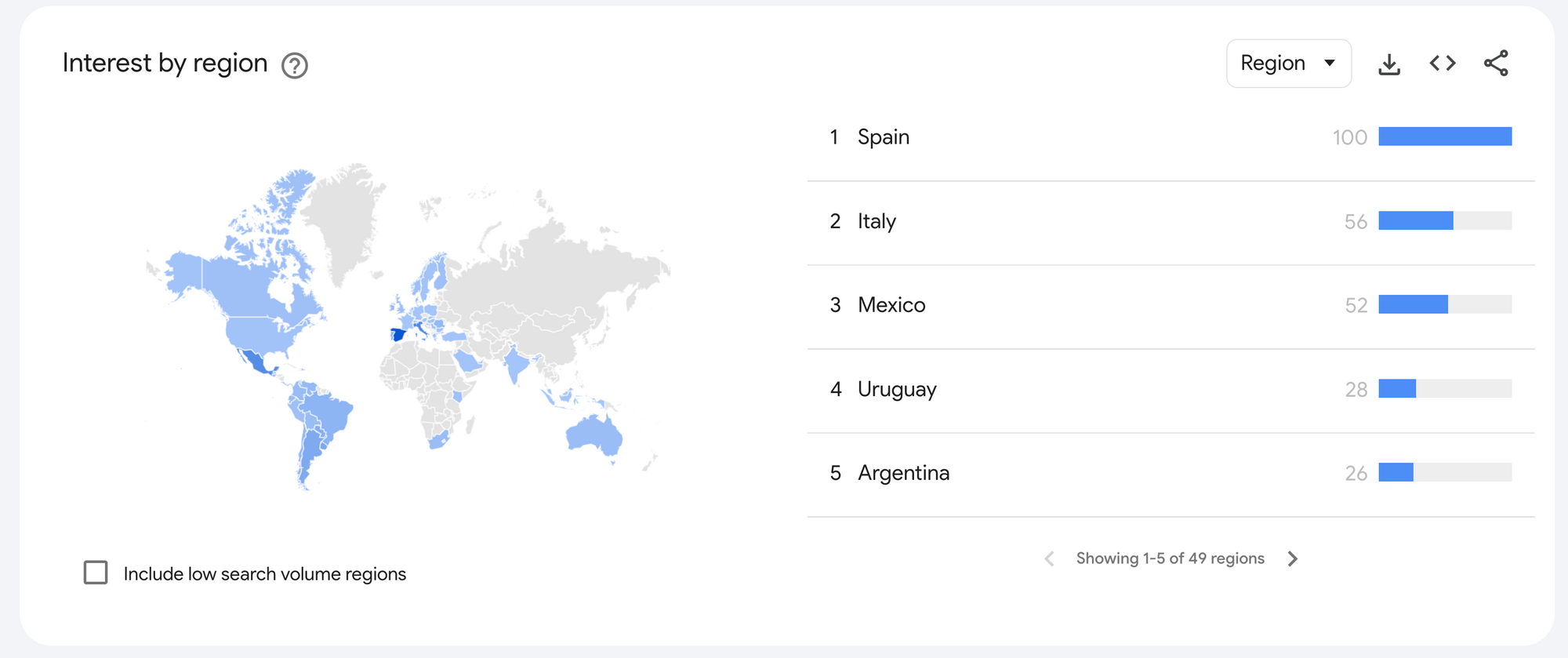 Using Google Trends to peek at trending search queries has provided what I consider curious and fun insights directly from fans worldwide, and a fun way to handle the post-race blues. From our analysis of the most popular search topics during the Jeddah Grand Prix, we can see that fans were particularly interested in the Driver of the Day award and the technology behind DRS. We also observed that certain drivers and countries generated more search interest than others, which may reflect the popularity of certain teams and drivers or other factors unique to those regions.