Formula 1 is back. After a long winter break, the world's highest echelon of racing started a new season of what hopefully will bring thrilling races, a moderate amount of drama, and your preferred drivers standing on the podium.
Knowing that the sport's popularity keeps growing and assuming that new fans were watching their first race (or Grand Prix, as it's formally known), I wanted to know what Formula 1-related concepts people were searching for on Google. To satisfy my curiosity, I used Google Trends—a tool that analyzes the popularity of search terms and related queries—after race winner Max Verstappen of Red Bull Racing saw the checkered flag in Bahrain to discover what people around the world wanted to know.
At 6:15 PM UTC, I wrote "formula 1" on Google Trends to search for the most popular worldwide queries from the past four hours. This four-hour period covers the race, which started at 3:00 PM UTC, one hour before, and approximately one hour and forty-five minutes after it ended (the race lasted 1:33 hours). And this is what I found (Figure 1).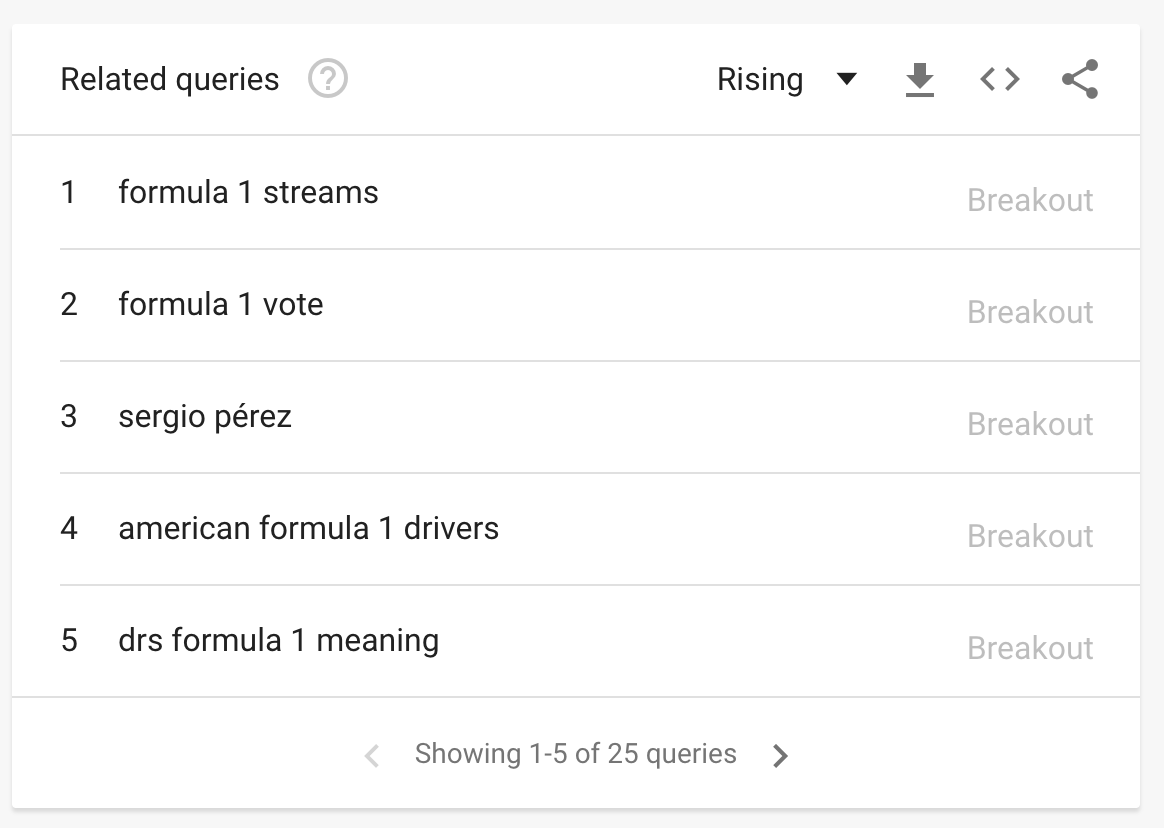 During this time, the top-rising query pertained to people seeking what I assume are illicit streaming websites broadcasting the race. Query number two refers to the Driver of the Day award, voted for by fans, and won by Fernando Alonso, who got 3rd place. Sergio Pérez, the other Red Bull driver, seemed to be the third most searched query, followed by those curious about Williams Racing' rookie Logan Sargeant, the first American driver to participate in a Grand Prix since Alexander Rossi in 2015. The last of the top five searches concern the DRS, or Drag Reduction System, the car's adjustable rear wing drivers can open to reduce drag and increase top speed to aid overtaking—I remember searching this exact query when I started following the sport.
According to Google Trends, this first race generated significant interest in the following five countries: Spain, Italy, Mexico, Bahrain, and Uruguay (Figure 2). While it's difficult to say what drove this interest, we can make some educated and obvious guesses. For instance, Spain's interest in the race may be related to the performance of Spaniard driver Fernando Alonso of Aston Martin, who, after many years, has what everyone is calling a competitive car, and Ferrari's Spaniard driver Carlos Sainz. We could attribute Italy's interest in the race to the presence of the Italian team Ferrari. Mexico's interest may be linked to Mexican driver Sergio Pérez. And, of course, Bahrain's interest is no surprise, given that the race took place there. However, the reason behind Uruguay's remains unclear.

Formula 1 is growing fast in the United States, with 23 of this year's races set to take place there. As noted earlier, there's also an American driver, Logan Sargeant, competing this year. Curious to see which states of the U.S. had the highest level of interest in the sport, I also turned to Google Trends—in part to test my suspicion that Logan's home state, Florida, will be among the top states. Figure 3 below confirms my suspicion. Moreover, Nevada, where the city of Las Vegas is and one that will host one of this year's races, also ranks in the top five.

Using Google Trends to peek at trending search queries has provided what I consider curious and fun insights directly from fans worldwide. In three charts, we've identified what these fans searched for before, during, and after the race, as well as the top 5 countries and states (of the U.S.) with the highest interest levels. As the season progresses, it will be interesting to continue monitoring these trends to see how they evolve and gain further insights into what the public wants to know about the exciting sport of Formula 1. To this end, I plan to repeat this analysis for each of the remaining 22 races of the season and share my findings with all of you. See you in two weeks!